Zanshinkan Dojo: Northwestern University Aikido Club
Founded by Shihan Fumio Toyoda in 1974, shortly after his arrival in Chicago, Zanshinkan Dōjō, also known as the Northwestern University Aikidō Club, provides training in the martial art of aikidō 合氣道 to students, faculty, and staff of Northwestern University.
Brief History
The Northwestern University Aikidō Club, later known also as Zanshinkan Dōjō 残心館道場, was the first branch dōjō established by Shihan Fumio Toyoda, in 1974, after establishing his own headquarters dōjō in Chicago. Initially affiliated with the Ki-Aikidō Society, it soon became one of the charter members of Toyoda-sensei's Aikidō Association of America, later also affiliated with the Aikikai Hombu Dōjō in Tokyo, Japan. In 2002, after Toyoda-sensei's passing in 2001, the Northwestern University Aikidō Club's Zanshinkan Dōjō became affiliated with Aikidō Shinjinkai, also headquartered in Chicago, Illinois, and now under the broader auspices of Aikidō Shimbokukai. Originally located in Northwestern's Patten Gymnasium, training subsequently moved to Blomquist Gymnasium, and it has recently relocated to the Crown Sports Pavilion and Aquatic Center.
The successive chief instructors of Zanshinkan Dōjō have been: Fumio Toyoda (shihan), Masa Hajihara, Hideto Arimizu, Bruce Holmes, John Mazza, Andy Sato, Roger Sullivan, RJ Dellinger, Elisabeth Menning, Kevin Swinehart, Mark Pandolfi, Glenn Patterson, Keith Moore, and John Mazza.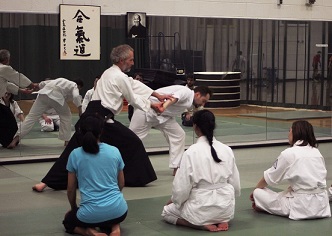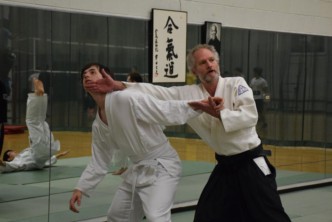 Supplementary Materials (version: 2015-10-01-a)

UNDER CONSTRUCTION


 The point is to lead the mind. If you lead the mind, then the body will follow. —Mazza-sensei


𑖮𑖼𑖯 𑖦

---
© 1995-2017 C.R. Bina